Architecture
Architecture-Alpha Release First September
---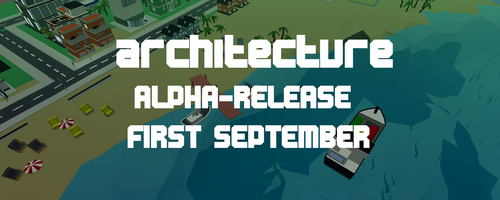 Hi there!
The time has come. On September 1 at 4 pm Architecture will be released in Alpha. Let's talk now about what to expect and what's next:
In the alpha, it will be mainly about building your own buildings based on your acquired orders and unlocking new biomes and objects. The city grows with the new buildings and the own architecture office.
This is the main mechanic of the game. In the alpha, the main goal is to get feedback from you and improve things before new features are added to the game through updates.
There we already address a point how it should go on. In the following months the game will be expanded. A worker system will be created, where you have to make sure in your office that architects, designers can all work well together. These will also work independently in the office and acquire money for the company. Also in the same update will appear another biome. So you can look forward to many new things. How long this will drag on, however, we can not say for now.
Other big features are also being worked on, which will bring a whole new style to the game. But only when it is so far.
So we are looking forward to Wednesday the first of September and are excited about your feedback.
Wishlist the game gladly in the PlayStore under: https://play.google.com/store/apps/details?id=com.DOI.architecture
See you next week.