Architecture
-Architecture- new Objects
---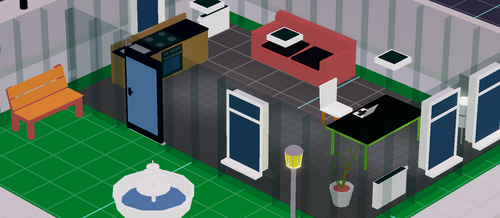 Hi there!
This week we have accomplished a lot again. Meanwhile, 114 objects can be placed in the building system, which are now all translated.
Above all, there are new floor colors, such as parquet floors, which can be placed in different color variations. A new sink can also be unlocked in the course of the game. This can also be placed on the wall like some other objects.
A sliding door has also been integrated. With a new script, this opens when the first person player stands in the collider. In general, more walls and doors need to be placed in the game to make the house facades more diverse.
Furthermore, the traffic system has been expanded. Waypoints are now placed everywhere and correctly connected in intersections. Now the cars also accelerate on certain routes and slow down again towards the intersection.
Events now start fully automatically and specific objects can be unlocked in the store. In the biomes, the layout changes accordingly and there are, for example, Christmas trees on the streets.
That's it again with the devlog. Have a nice week.