Architecture
Architecture-multicolor windows and events
---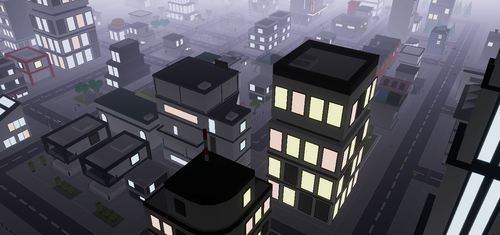 Hi there!
This week, in addition to the improved destruction tool, there have also been enhancements in the point of graphics and the scope of the game.
Over time, the biome city has evolved more and more. Nevertheless, it bothered us that at night the houses look so monotonous due to the lighting. At first we thought of a shader, which randomly adjusts the color choice depending on the window. However, the implementation failed because the windows of a building are connected in one material. Sometimes the simpler solutions are the better way. For us, this means covering individual windows with new materials, which are then covered with different Glow materials. At night, this effect then increases in intensity.
During the Christmas season or Halloween, various events should take place. The first idea was to change objects, e.g. into a Christmas tree. With the new system this is possible and will probably be integrated into the game in parts before the release. This means that events do not have to be updated in the game. Another idea was to also offer corresponding objects to unlock and customize orders based on the event.
How now what is programmed to what extent is still pending.
Have a nice week and don't forget to wishlist the game in the Play Store!!!
https://play.google.com/store/apps/details?id=com.DOI.architecture